Sandra Olivia was born on November 4th, 1868, in Marka, Skaraborg, Sweden. She was the first daughter, and fourth child, of Anders and Maja Grof. When she was about a year and a half, in the summer of 1870, her family emigrated to Jefferson County, Iowa.
The family became farmers outside Fairfield, Iowa, and they did well. By 1883 there were elven siblings, four girls and seven boys.
Between 1892 and 1898 Zanna Olive Groves worked at the Willow Creek Boarding School west of Browning, on the Blackfeet Indian Reservation in northern Montana. There she met John Edward "Dutch Ed" Trommer, a German immigrant who had come west working on the Northern Pacific Railroad. Olive and Ed married on August 29, 1898. A newspaper st0ry about the wedding says that Miss Groves had been a teacher for six years, but the records from the school show that she had been a laundress, and later an assistant matron.
Olive and Dutch Ed filed claims for land close to Chester, Montana. They became sheep ranchers and quite successful.
In the fall of 1905 Olive was visting in Fairfield, giving birth to her fifth child. From the Fort Benton River Press, Nov. 29, 1905: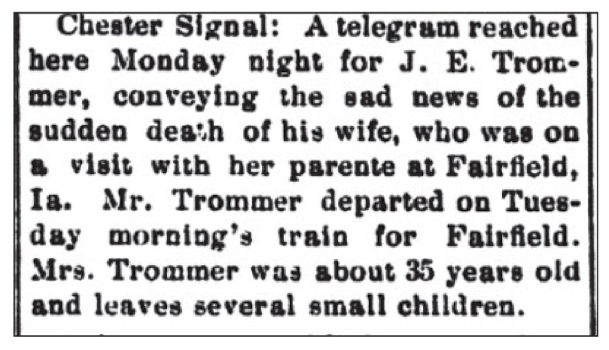 Fairfield Daily Journal, Nov. 25, 1905:
"…. This community was shocked Monday evening to hear that Mrs. Ollie Trammer was dead. She had come from her home in Montana with her husband and children two months ago to visit her parents, Mr. and Mrs. A.G. GROVE. The husband had gone back and Mrs. TRAMMER and children remained. A little babe was born three weeks ago and the mother was apparently on the road to recovery. Monday she was bright and hopeful all day, planning when she would be able to return to her Montana home, but about six o'clock she was stricken with heart failure and in half an hour she had gone to her Heavenly home. Messages were sent to the husband and to a brother and sister in Colorado. The deepest sympathy of the entire community goes out to the bereaved husband and parents and to those who cared for her so faithfully and to the five little ones who so much need a mother's care."
Dutch Ed seems not to have recovered from Olive's death. The five children were raised by Olive's parents and siblings. Ed took to gambling and drinking. There are claims that the house he built for Olive became haunted. Footsteps were heard from upstairs, doors blew open, and sheepherders were said the have disappeared.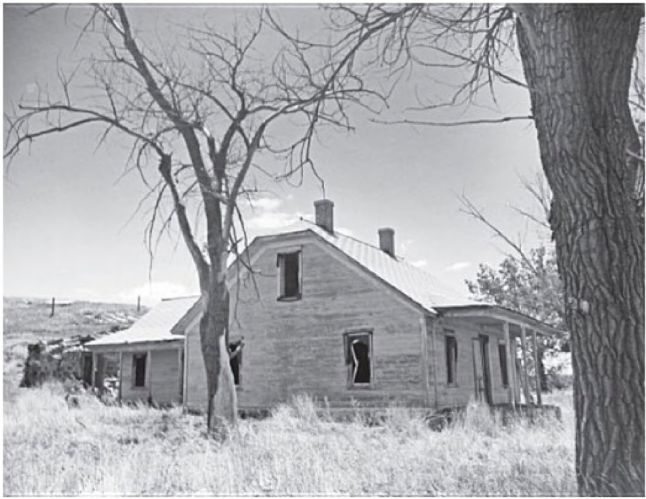 Dutch Ed's second wife left him. He died in 1945.
Olive and Ed's second daughter, Helen, lived until 1999. She died in Santa Ana, Calif. and was buried alongside her younger brother Jack who died in 1995.