One of my friends here in California is an immigrant from Taiwan. She had her parents stay with her for a couple of months, and invited some people over for a party so that everyone could meet. The next day her parents had told her they had felt like they were in a movie. Surrounded by all white friendly Americans a movie was their point of reference.
Even though I've lived in California for more than 20 years I feel the same way half the time. Yesterday I was walking on the trail close to my house. It's a beautiful loop on the side of a mountain with a creek and some classic California yellow hills. I go on this trail and I am surrounded by perfection. Perfectly toned bodies, perfect brand name exercise outfits, perfect bikes, perfect dogs. Perfect take-out coffee cups. Perfect sunglasses, perfect hair.
There is a strive for perfection in American culture that gets to you after a while. It makes your eyes gloss over, and it makes your brain gloss over. It's impersonal, and boring. The perfection of film and TV has carried over into real life, and with image driven social media there is no end in sight. There isn't a crack in anything.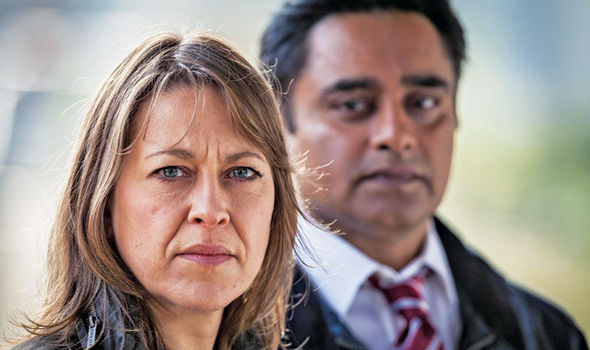 I balance the mind-numbing perfection by watching none-American TV. I grew up with British TV in Sweden, and the cultures and cultural values are similar. Recently I've discovered Sally Wainwright, a British writer for television. She's created Scott & Bailey (a Manchester version of Cagney and Lacey), Happy Valley, and Last Tango in Halifax among others. She's also been a writer for a truckload of other shows. A lot of the actors recur, and Nicola Walker is one of them. She's not perfect, but she's a star. And she looks like someone you work with.
Sally Wainwright creates female characters who are complex, interesting, and believable. They drink too much and throw up. They have sex with the wrong person. They worry about their kids. They act with natural authority at work. And they have wrinkles, and sometimes they wear clothes that don't fit right.
Watch a few episodes of the police drama Scott & Bailey, and all of a sudden you'll realize that there isn't a single male chief, sergeant, or medical examiner anywhere. It's not announced upfront, and it will only dawn on you after a while. But every single scene consists of women, named characters, who talk about something else than men and drive the plot forward.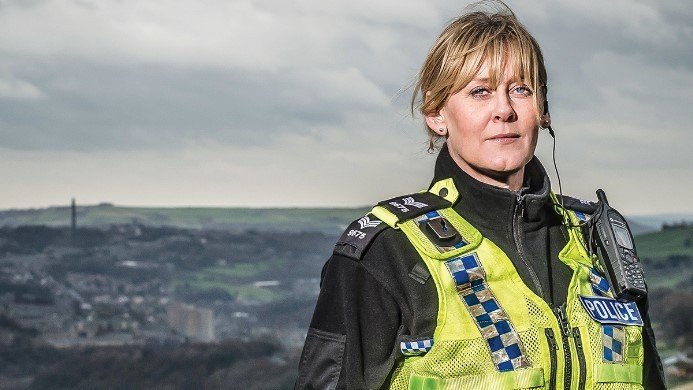 In Happy Valley Sarah Lancashire, as sergeant Catherine Cawood, obviously kicks ass. But she also literally kicks the shit out of someone when she's left alone with the man who raped her daughter. She's no Wonder Woman, but she's strong, lovable, scary, and vulnerable, all at once.
Sally Wainwright also lets women be funny. In one scene sergeant Cawood leaves the home of an elderly immigrant who has agreed to give shelter to a young woman who has blown the whistle on a human trafficking ring. As she leaves, Cawood reminds the old woman to "lock this door". "Oh, I was thinking to leave it open", the old woman says. "And maybe put sign, you know, 'human traffickers come here'."
She reminds me of the Japanese woman who sold me make-up in Japantown in San Jose when I first moved to the US. To help me pick a shade, she said, in equally broken English, "Your age, ENHANCE. My age, COVER UP." She quickly circled her face with her hand, and then she turned around and gestured towards the balding spot on the back of her head. "Cover up, cover up."
As I write this I realize what I miss in American film and TV. I miss the warts-and-all attitude of the culture that raised me, but I also miss a presence of female humor, and female language, independent of men and male taste. TV series written by women, for women, but still considered part of the mainstream. A wider mainstream, if you will.